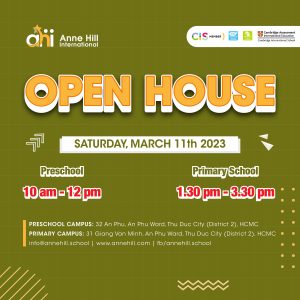 [Vietnamese caption below- Tiếng Việt bên dưới]
What lies beyond the gates of Anne Hill International School? How is school life at AHI? Register to join our Saturday Open House!
We are thrilled to welcome you to our campus on Saturday, March 11, 2023:
PRESCHOOL: 10 AM TO 12 PM
VENUE: 32 AN PHU, AN PHU WARD, THU DUC CITY, HCMC.
PRIMARY SCHOOL: 1.30 TO 3.30 PM
VENUE: 31 GIANG VAN MINH, AN PHU WARD, THU DUC CITY, HCMC.
On this day, we will be opening our school to families to showcase our facilities. Parents will also have the opportunity to meet our academic staff, teachers, and educational partners. This is an opportunity for you to see what life is like at AHI through FAQ sessions and facility tours. There will also be lots of fun activities such as fun science making, music, sports, speech and drama, and many more.
?Affordable
?High-quality Education accredited by CIS, Cambridge
?Safe & Caring Environment
Register now: https://www.formpl.us/form/5639793837998080 
*Limited slots per session; registration is required*
————————————————————————–
Có gì thú vị đằng sau cánh cổng Trường Quốc tế Anne Hill? Cuộc sống học đường tại AHI như thế nào? Hãy đăng ký và tham gia sự kiện Open House vào Thứ Bảy của chúng tôi!
Trường Quốc tế Anne Hill rất vui mừng chào đón quý vị Phụ huynh và các em học sinh đến tham quan trường chúng tôi vào thứ Bảy, ngày 11 tháng 3 năm 2023 tại:
CƠ SỞ MẦM NON: 10 GIỜ SÁNG ĐẾN 12 GIỜ TRƯA
ĐỊA ĐIỂM: 32 AN PHÚ, PHƯỜNG AN PHÚ, TP THỦ ĐỨC, TP.HCM.
CƠ SỞ TIỂU HỌC: 13.30 ĐẾN 15.30
ĐỊA ĐIỂM: 31 GIANG VĂN MINH, PHƯỜNG AN PHÚ, TP THỦ ĐỨC, TP.HCM.
Vào ngày này, Nhà trường sẽ mở cửa chào đón các gia đình (số lượng giới hạn) để giới thiệu về cơ sở vật chất của trường chúng tôi. Đây cũng là cơ hội để phụ huynh gặp gỡ đội ngũ giáo viên, nhân viên và các đối tác giáo dục để hiểu thêm về các chương trình học đang được giảng dạy tại trường quốc tế Anne Hill. Đồng thời, sự kiện còn có nhiều hoạt động thú vị dành riêng cho học sinh với nhiều chủ đề từ khoa học, âm nhạc, thể thao, kịch nghệ và các hoạt động khác.
?Học phí hợp lý với chương trình chuẩn quốc tế
?Chất lượng giáo dục cao được kiểm định bởi CIS, Cambridge
?Môi trường học an toàn & chu đáo
Đăng ký ngay tại: https://www.formpl.us/form/5639793837998080 
*Vui lòng đăng ký trước khi tham gia *