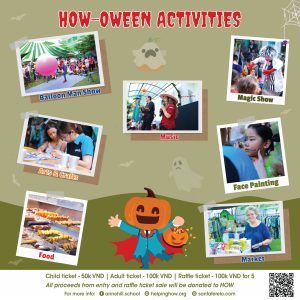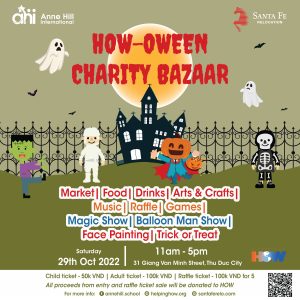 No plans for Halloween this year? Come join us at our charity bazaar! You can enjoy a fun day out with your family while participating in a meaningful cause.
HOW-Oween Charity Bazaar is officially back and continuing its journey to connect and positively impact the lives of children in Vietnam and around the world.
Time: 11:00am to 5:00pm
Date: Saturday, October 29, 2022
Location: 31 Giang Van Minh, An Phu Ward, Thu Duc City, Ho Chi Minh City
Entry fee:
50k VND/child
100k VND/adult
Amazing prizes are to be won in the raffle that comes from big sponsors such as Pullman Vietnam, Raffles Medical, Anne Hill Enrichment Centre, Lion City Restaurant, Good Food Vietnam, Global Arts, and many others. Raffle tickets are 100k VND/booklet of 5 tickets.
??? ???????? ???? ??? ?????, ?????? ??? ??? ?????? ??????? ???? ?? ???????? ?? ??? ??? ??? ?????????? ???? ?? ?? ????????? ?? ???????? ?
To participate, please refer to the following information:
For AHI parents, students and families, please contact the Admissions and Student Team via email or hotline to purchase the ticket (cash only).
Public visitors can buy tickets and raffle tickets at our ticket table on the day of the event.
On behalf of Anne Hill International School, we would like to thank you for your interest and compassion in advance. Each donation will make a difference, and through this event, we will continue to advocate for the protection, healthcare and education of children!
================================
Halloween năm nay mình đi đâu nhỉ? Hãy đến tham gia với chúng tôi tại chợ từ thiện HOW-OWeen Charity Bazaar 2022! Bạn có thể tận hưởng một ngày vui vẻ bên gia đình trong khi tham gia vào một hoạt động ý nghĩa.
HOW-Oween Charity Bazaar chính thức trở lại và tiếp tục hành trình kết nối và tạo tác động tích cực đến cuộc sống của trẻ em Việt Nam và trên thế giới.
Thời gian: 11:00 sáng đến 5:00 chiều
Ngày: Thứ Bảy, ngày 29 tháng 10 năm 2022
Địa điểm: 31 Giang Văn Minh, P. An Phú, Thành phố Thủ Đức, TP.HCM
Phí vào cửa:
50k VND / trẻ em
100k VND / người lớn
Các giải thưởng tuyệt vời đến từ những nhà tài trợ lớn như Pullman Vietnam, Trung tâm y tế Raffles, trung tâm Ngoại khóa Enrichment Centre, nhà hàng Lion City, GoodFood Việt Nam, Global Arts và nhiều nhà tài trợ khác. Vé xổ số là 100k VND / tập 5 vé.
TẤT CẢ SỐ TIỀN THU ĐƯỢC TỪ VIỆC VÀO CỬA, PHÍ NHÀ CUNG CẤP VÀ VÉ XỔ SỐ SẼ ĐƯỢC CHUYỂN TRỰC TIẾP CHO HOW ĐỂ THỰC HIỆN CÔNG VIỆC CẢI TẠI MỘT TRẠI TRẺ MỒ CÔI Ở QUẬN 9, THÀNH PHỐ HỒ CHÍ MINH
Để tham gia, vui lòng tham khảo thông tin sau:
Đối với Phụ huynh, học sinh và gia đình AHI vui lòng liên hệ với Bộ phận Tuyển sinh & Chăm sóc Học sinh qua email admin@annehill.school hoặc hotline 090 6846 939 để mua vé (chỉ chấp nhận tiền mặt).
Mọi người có thể mua vé và vé xổ số tại phòng vé của chúng tôi vào ngày diễn ra sự kiện.
Thay mặt Trường Quốc tế Anne Hill, chúng tôi chân thành cảm ơn sự quan tâm và chia sẻ của các bạn. Mỗi khoản đóng góp sẽ tạo ra sự khác biệt và thông qua sự kiện này, chúng tôi sẽ tiếp tục đồng hành trên con đường bảo vệ, chăm sóc sức khỏe và giáo dục trẻ em!
Well-Rounded, Globally-Minded, Lifelong Learners
Primary School: 31 Giang Van Minh, An Phu Ward, Thu Duc City, Ho Chi Minh City
Website:
https://annehill.school/
Email: info@annehill.school
Hotline: 0906 846 939
Book A School Tour:
https://app.annehill.school/appointment